KeyChoc chocolate machinery has been developed to suit the needs of both smaller artisanal chocolate producers as well as medium-sized industrial chocolate manufacturers. Designed with a meticulous attention to detail and manufactured to precise standards, KeyChoc machines, including the new INFINITY range of chocolate melting and tempering machines, combine solid engineering with a wealth of carefully thought out features, and all at sensible prices.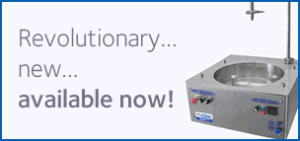 The KeyChoc standard range includes table-top chocolate melters, large melting tanks up to 1500kgs, batch chocolate tempering tanks, chocolate moulding machines, vibrating tables and cooling tunnels. KeyChoc is also the UK distributor for GAMI SRL. Gami are a well established and well respected Italian manufacturer of chocolate processing equipment, in particular continuous tempering machines.
Take a look at our revolutionary new INFINITY range of UK manufactured pumped chocolate moulding machines and attachments, launched for 2016.
All our chocolate machinery can be seen at our Showroom in St. Helens, Merseyside and we would be very happy to arrange a demonstration for you.